Hello everyone, this is Trade Peak 5 cubic foot cement mixer most commonly found at local construction supermarkets. It's pretty well-reviewed and after spending some time with it. I can see why it comes with a large box that will likely require two people to move about.
Let's see how to assemble this Trade Peak 5 cubic-foot cement mixer.
Everything inside is nicely packaged and well protected from damage, I particularly like the fact they went ahead and covered the ends of things with foam and tape.
Assembly starts by first bolting together, the two pieces that make up the legs, this is followed by the installation of both wheels which are made out of hard plastic. They are held in place with just a couple of cutter pins that you'll need to bend shut, next up is what I am calling the pivot bracket there is a set of screws that provides some tension, but for the most part, it just held in place by gravity.
From here, we will pin on the large bracket of this 5 cubic foot cement mixer that contains the Drive-unit pre-stalled and to which the drum will later be installed.
Worth noting, here's that everything feels really heavy duty and I am really happy that the manufacturer didn't cheap out and use a thinner gauge of steel. In any case, this is a three-hand job, but I somehow may do with two.
The handle slides in some holes to the rear of the Drive Unit, they are also held in place with a couple of removable pins, if I am honest they feel a little stubby, it would have been nice if they were longer. One of my few nitpicky complaints about this unit.
We are almost done with the 5 cubic foot cement mixer.
go ahead and spin on the mixing drum which is connected directly to the motor's threaded shaft in a direct drive configuration.
Finally, the bolts on the two mixing paddles and we're done, go ahead and give this a little test spin because we all know that no one could resist.
Moving a 5 cubic foot cement mixer about is a little tricky, especially on rough terrain, remember those stubby handles that I wasn't thrilled about earlier, here's why. On the smoother ground, it rolls pretty well though.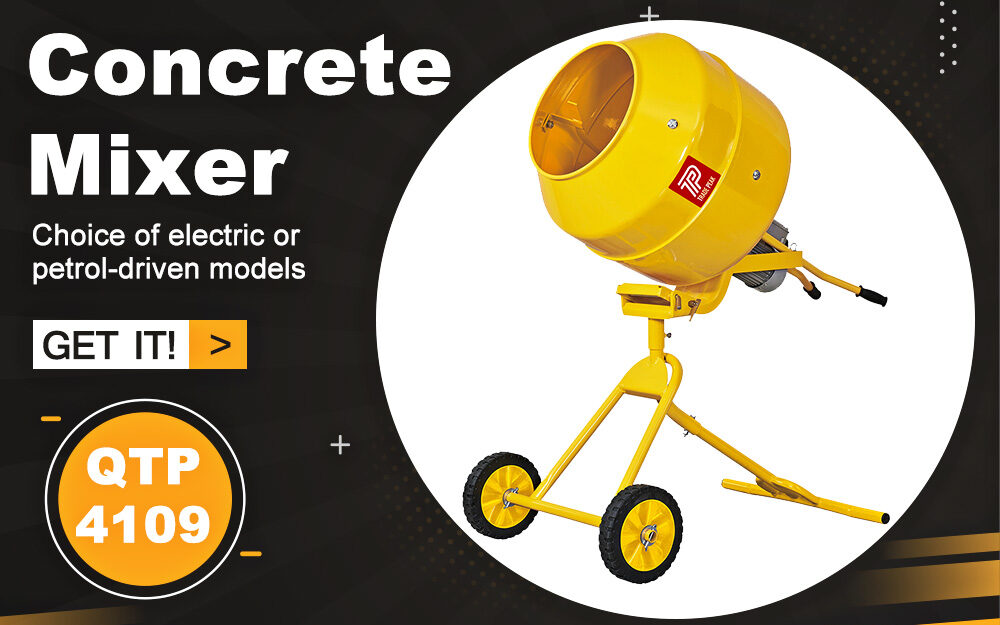 Please allow me to invite you to see this 5 cubic foot cement mixer working condition.
It holds 60 pounds bags of concrete comfortably and could probably add a fourth. If you wanted to push this 5 cubic foot cement mixer here's what that looks like inside.
And now, add your water and let it do its job. I know you are technically supposed to add water first but I like it this way, so well, it does take a couple of minutes to get a good consistency throughout the mix, honestly, a little slower than I would have thought, no complaints though. As this beats hand mixing by a mile and here's what that looks like.
It's time to dump, this is a little trickier than you'd think. I had planned on going into a wheelbarrow first, but as it turns out, it's not tall enough to do that in the titled down position meaning I had to dump directly into my forms not really a big deal, but it does mean you will have to maneuver the unit one when it's loaded or get a shorter wheelbarrow than I had.
For this little gazebo stem wall, I was pouring, I ended up settling into a pretty productive little workflow, basically just a batch mixing while I was working the concrete forms, it worked really very well. A few minutes in between loads while I floated and traveled and then I was ready for another 180 pounds. I think I went with 40 bags which would have been a nightmare to mix in a shovel, so I grew to love this machine pretty quickly.
That's the Trade Peak 5 cubic meter foot concrete mixer in a nutshell. Do you like it? What about getting one of the Trade Peak 5 cubic foot cement mixers to your home? If yes, Trade Peak is ready to be at your service!