Good morning, ladies and gentlemen, welcome to Trade Peak Channel, this is Samantha.
2 stages petrol snow blower is much more acceptable by different buyers. Before anything else, I think you may concern about how much snow you will get, for 2 stage snow blower could help you from 22 inches to 33 inches. Its really simple result, the larger the petrol snow blower you purchased, the less time you can be spent out of the cold to clearing the snow.
Don't under-spend that a petrol snow blower can not handle all your weather, that would be a definitely decision you would regret. If you can make a lot of cash, go for the larger snow blower, and you will thank yourself later. The much more simple design petrol snow blower could make your working easy and efficiency.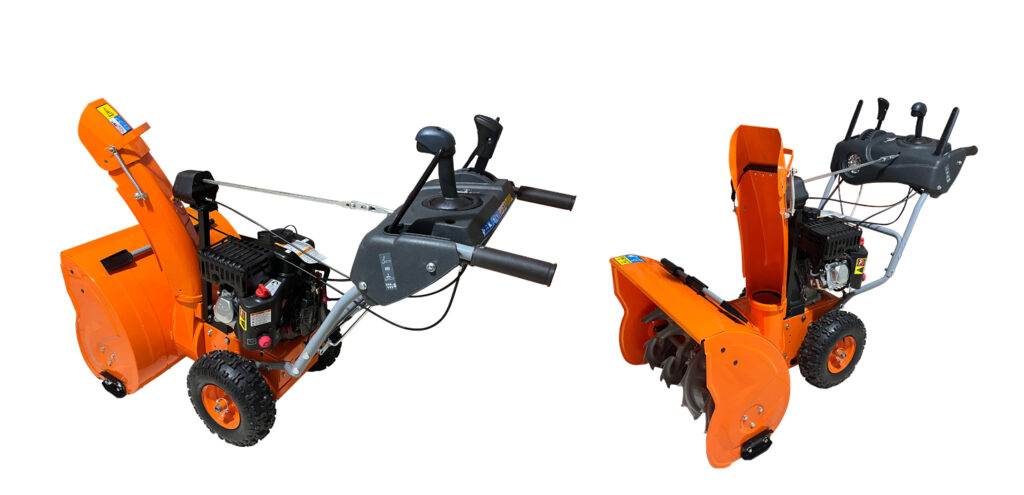 The Trade Peak 26 inches, two stage snow thrower is perfectly balanced for controlled. This heavy duty and two stage snow blower is easily tracked off the deeply snow, and will be providing the maximum operator comfort, offering six forwarder speeds and two reverse.
1. The gear shift is conveniently placed into the dash board that also has a LED height light, a couple holder and heated handed grips.
2. With a LCT 208cc electric start snowy engine. It effortlessly starts into a harshest conditions.
3. With a push of button for pull of the road.
4. The actually auger in 12 inches high speed impeller, it vowers the heaviest of the snow.
5. Have the 21 inches deep through and throw the extended solid steel of chute. All engineering for maximum throwing distance and minimum blowback. Easily end of a snow blower where you want with a convenient crank control for on the flat adjustment.
6. With a flexibility full-time two wheel drive when there is a crank driver requested, or one-wheel drive for better maneuverability, Trade Peak practicality and performance without breaking a bank, Max value, max performance, that open and hug the world.
How to use Trade Peak petrol snow blower QTP0620.
When you operate this petrol snow blower, let's see the dash board first. At the left side, there is auger clutch handle, it means when the snow blower dig the snow, you need to press this, the beside one is the controller of chute direction.
QTP0620 petrol snow blower is 180 degree, also 4-way chute directional control, you could use it into any degree that you want, and helps you to blow the snow cleaning.
Now, let's go to the right side, the right handle is the drive system. It should be released when you are moving forward, and please remember it should be kept released before changing speed.
This one is speed shift lever, 6 forwards and 2 reverses to suitable for varying conditions.
There are two red little button, one is for LED light start which provides safety in low-visibility situations, another one is for heated hands that can keep hands warm and dry for ultimate in comfort.
Trade Peak QTP0260 petrol snow blower uses 13×5.00-6 pneumatic wheel, butterfly tire pattern has the better ability on grip, to make blowing snow into all terrain fields, it could be reduced the operator working pressure mostly.
The middle metal box is with gear inside. It should be checked after the whole usage in winter to help you enjoy a long and good using, storage experience.
It prepared chute clean-out tool on every single snow blower for your easy cleaning after usage.
Serrated steel augers slice through hard-packed snow and ice with ease.
Higher speed impeller consumes more sow and increases the distance snow can be thrown.
The heavy-duty aluminum gear case with alloy steel gears and syn-thetic gear oil provides continuous reliability and a longer gear life.
The two skid shoes could protect decorative surface of snow blower.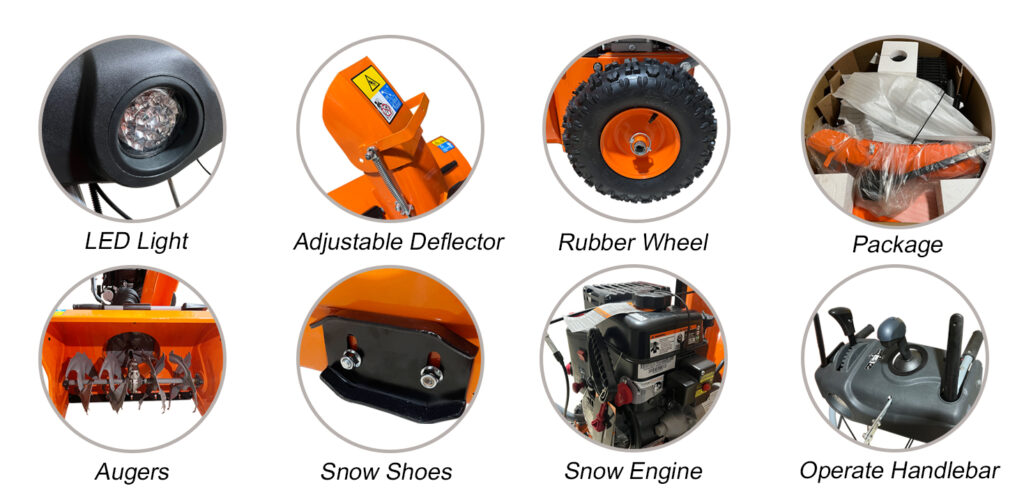 Ok, that's all for today. Thanks for your reading and attention. Hope you learn some basic datas on Trade Peak QTP0620 Snow blower. If you are interested in more, please click the description box, and get more competitive price and service. For the demonstration on snow blower, we will show you them in winter time. Don't forget to give me more thumb and like, hope to see you every time on Trade Peak Channel. So please keep following, follow Trade Peak for more products.