Welcome to Trade Peak Power Tools Channel. Today, we will transfer one of the retired men who used Trade Peak 1.6 ft. Electric concrete mixer from Home Depot, let's see what he said and used.
Hello everyone, nice to meet you in Trade Peak Powertools Channel, this is Steven, today's introduction is on the assembly of the Trade Peak 1.6 ft. electric concrete mixer from Home Depot.
It's a one-bag mixer, I believe a 40-pound bag, just to assist in mixing rather than using a wheelbarrow, I will show you the assembly of the unit, let's get going.
So it turns out that after doing the job, I had to modify my tool list, so this is the updated tool list. Needle a handy dany knife, nose pliers, a 10-millimeter open-end wrench, a 13-millimeter open-end wrench, a spud wrench, kind of a centering tool to center the holes between the upper and lower drum, a number two Phillips, a wrench, and a socket, a 13-millimeter socket, a 10-millimeter socket, a short little extension three inches, these got me through the job.
After opening, the box the first thing you see, and now I have parked this styrofoam is, it's off to the side, so we will remove parts.
I will lay them out on the 1.6 ft. Electric concrete mixer,
Model No.: QTP4005, 1.6 ft,
120 Voltage, 60Herz, 150Watt,
drum mouth is 236mm,
Overall dimension 107x51x88.5cm,
weight 26 kg.
So laid out here on the 1.6 ft. electric concrete mixer are all the parts that come in the box, minus the hardware, I have on my work wrench, so that's everything in the box, and we will get with putting this thing together.
Here we have laid out the hardware kit, it looks pretty well laid out where each part of the process has its number and then, there's parts itemized parts list for each section. The tools required for each section. Here we are, on page 7.
Now, I start assembly. Step one is mounting the wheels to the wheel bracket so I've got the wheel bracket here, the wheels are covered in plastic, that's the backside, not so fancy side that's the front side which is the hubcap side when you stick the carter key in, head stops flowing through and we get our needle nose pliers, and put a nice little bend in these, ok, wheels number two is installed.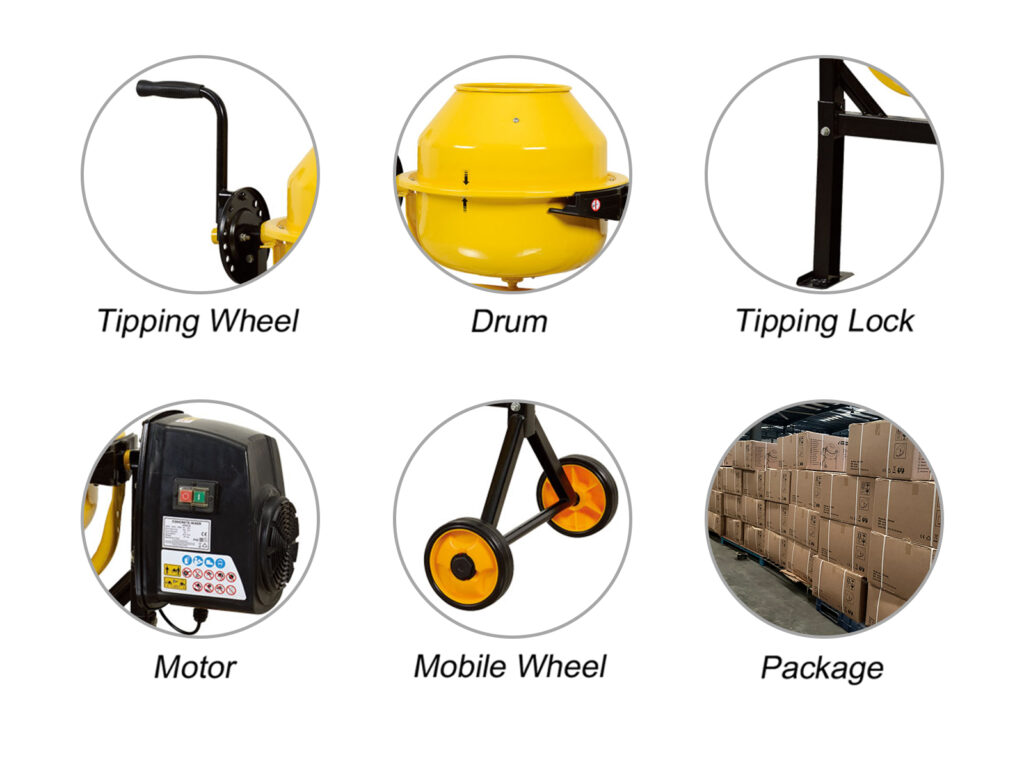 Step number two is this bracket and that bracket by 1.6 ft. electric concrete mixer, so we are going to put that with our 13-millimeter bolts and be aware that one of these has a notch in it, so the one with the notch is the one with the wheels go, so this bracket is here, the notch on the other side, so we have the bolts and washers to fix these two brackets, so it looks like I need two tools here to tighten this up, and you can neither use the two wrenches to make it. So use the nut right to touchy lift your juicy.
The following is step three is mounting the wheels onto the bracket that we just put the stanchion on, that is the stand.
So we are on step four, we have two M8 by 55 millimeters, and also they recommended that you have two people but we're going to do with one, it showed us T-fitting the bucket and the bracket. For this T-fitting of 1.6 ft. electric concrete mixer, you want to have the bracket L-shaped facing out, so the Z is favoring in that way, also here is the motor mount that goes in the side where the wheels are.
Now I am trying to make this by a single person. Well, we are done. And I just happen to have the bolts right here, okay, we want all the nuts facing out, that's what we make it look like what we are thinking about. So as before, the washer fancy side out support and the washer empty side out and nylon nut.
Now we are going to Step number five, which is mounting the mixing blades into the bottom bucket, we are nearly finished mounting this 1.6 ft. electric concrete mixer. According to the drawing, the Philips screws go in from the bottom up and then the rubber washer goes on, it doesn't matter which way the rubber washer is not in a particular side, but it goes on here and keeps the liquid from escaping, the mixing blade doesn't matter which one goes where.
Ah, step six is mounting the top part of the barrel and joining the two halves together. There is an arrow here, and an arrow there, so that is where you line them up, and last ring rim bolt, I found that you have a quite few holes just because that gasket overhangs. The directions say cork gasket or something like that which they just ran out of cork or something, but it's rubber.
That so now, I am going to go through and tighten all the bolts up, and I am guessing to tell you a wrench but guess what I'm going to use a socket. A slight modification in the tool list, using a socket for some of this stuff, because the wrench is just not very well to operate.
Ok now, we are going to start the number seven section which is mounting the hole of the tipping bar, and locking plate, which is the most important part of the 1.6 ft. electric concrete mixer. In this case, we use the flat washer and bolt fancy side out.
Step number eight is the mixing handle by a 1.6ft. electric concrete mixer. What I gather from the Scooby-Doo drawing is the spring goes in there like that, then hold it, line that up then, you can kind of let it go down and snap that in, you have to put a little pressure on this because it's spring loaded.
For now guys, we are on step number nine, the final step. There are 13 mill, three nuts, and an O-ring, so I happen to have this bench-handy, now mounting the motor of the 1.6 ft. electric concrete mixer, it's keyed and not in a straight up and down, so I had to turn it a little bit, so might have to do that, so now use the two nylon nuts here, a nut fancy side out and the nut facing the direction of the rust, and that guy where is the other nut.
Hooray, this is the final product, Trade Peak 1.6 ft. electric concrete mixer is finished with assembly, just FYI, it doesn't sit really high so you can't dump this into a wheelbarrow, maybe you could make it in your project directly. This is all the process of assembly of Trade Peak 1.6 cubic foot mini mixer. Although it looks small, it is powerful, the simple and easy operation can make daily work efficient.
Thanks for Steven giving us the details of the assembly of this mini mixer, the following blog will provide more using options or videos for your reference, please follow us on our website, there will be more meaningful, helpful information shown online. See you next time!