Welcome to Trade Peak Channel. Today, we are going to move on to the testing and comparison of the three plate compactors, they are Hyundai HYCP 5030, Lumag vp60, and Wacka Newson BPS 1030b. Let's start!
It includes the flatness, speed, wheel assembly function, and corner performance on the different brand plate compactors.
Now, we've come to the secret location in an old farm barn in the countryside, we have some nice sculptings down here which we are going to whack down with these beautiful plate compactors more, so with that one as it's wacker but right, let's crack on do a few stripes with each and see how we go on right, so they are all cold, we are going to start them up individually and then do one line down through park them at the other end, and then compare to see what they are like each we've got Hyundai Lumag and the Wacker, let's crack them on.
I definitely took some warming up on these plate compactors, let's try the next one.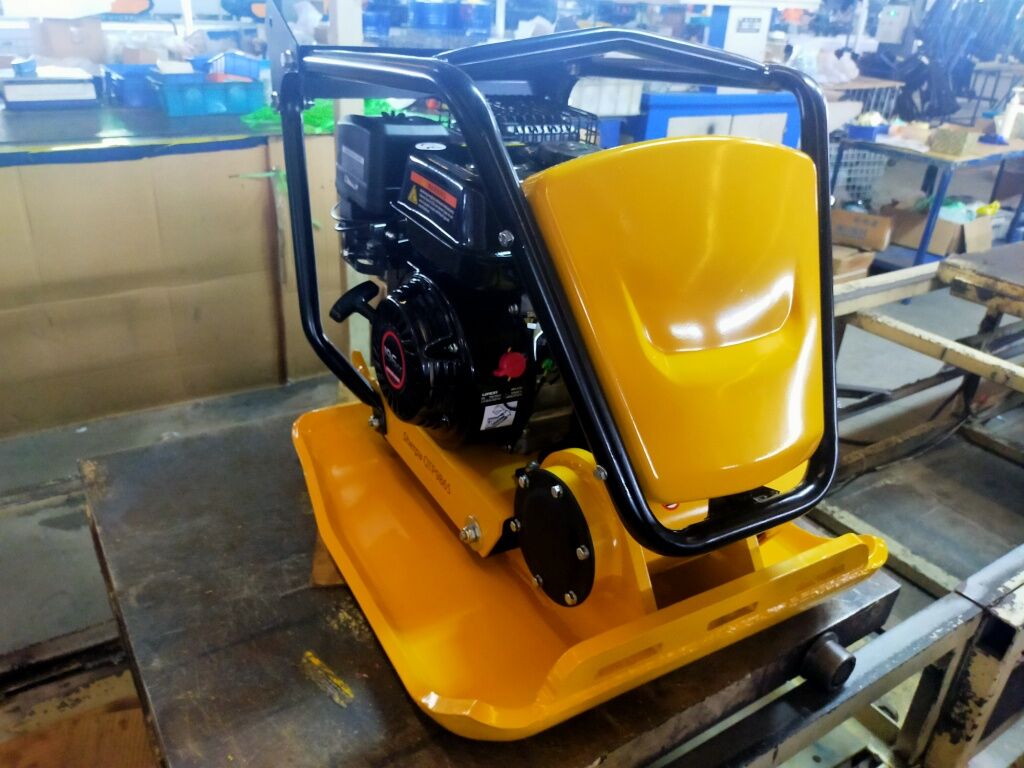 Ok, here is the last one for testing.
All three plate compactors have done a very very similar job, but on the Lumag and on the Wacker Newson, you can definitely feel that you had to hold them back, they wanted to go, and they really really did. The Hyundai's just seemed a little bit more you had to sort of help it along a little bit.
Right, let's do a little bit more on these three different plate compactors and see how we get on. So let's split this area into three. So we have one area for the Hyundai, one area for the Lumag, and one area for the Wacker Newson. Go around the circles, make it nice and flat, let's see here we go.
Definitely see how difference between these three plate compactors, so now I am going to split it the other way, I am going to do long stripes what condition up there, Lumag in the middle, the Hyundai done here.
Well, all finished, it takes a little bit longer, but now, what's the speed, we are going to do the speed test from that end of the shed, all the way to the finishing line right here. Hyundai, Lumag, then Wacker Newson and let's begin.
I think there's a clear winner, well, that's fun, let's test the wheels on rough ground, and then round up.
So I think we can all agree that they've done the job, they compacted the sculpting down as they are designed to do, so I think these three plate compactors all boils down to build quality longevity, and price.
So starting with the Hyundai, yes, it is the cheapest machine we've got here out of the three, but it is surely lacking the build quality, the wheel assembly is extremely weak, it's got the thinnest plate, it's the lightest machine and all round, just seems like it's not going to last as long as the other two.
Maybe if you are just a personal project at home to do, it might be a good option rather than hiring, but if you want something to last a long time, it's definitely worth looking at something else.
So the Lumag is only 85 pounds more than the Hyundai, but what you get for your money is very obvious. It's a heavier machine, with better build construction, the wheel assembly looks like it's going to last and is much easier to function. It's a much better machine all around.
I think it's suitable not just for homeowners, but landscape gardeners, builders, small construction firms, and perhaps driveway installers. It will be a very very good option. Also, the commercial warranty and the domestic warranty are much longer than what it is of the Hyundai.
The Wacker Newson is an exemplary machine. It is absolutely faultless, it is designed just everything has been thought about. It is solid construction, it's a thicker plate, it's cast iron plate, it corners perfectly because you've got these curves within the plate and it's got a much bigger engine which helps the travel speed.
But yet, still compacts as well as the other two, so that machine is really designed for the commercial users, large construction companies, or groundwork companies where there's going to be lots of different users that are all going to enjoy using it.
Although it is lower spec, it doesn't come with the wheel kit and it doesn't come with a paving pad, you can have them as optional extras and the warranty is only one year whether domestic or commercial, but if you are looking for something for full-time use, then that is probably the machine to look at, and also it comes with a higher price you know you can really buy two of these machines for one of them.
So what about your choice if you need plate compactors? For any machines that you would like me to review, please pop it in the comments section below, or ping us by email which you can find in our About tab, we are TRADE PEAK, and we are looking forward to being your business partner locally.